It is hard to believe that today is only day nine since our public debut on July 20, 2022. Our founders, team members and our scores of developers and supporters have been hustling to expand awareness of the world's most advanced DAO toolkit.
So, on this sunny Friday afternoon in the land of Summon, it is our honor and pleasure to report on how the project's awareness has grown over just nine days.
The media loves The Summon Platform
Since announcing on Wednesday last week, The Summon Platform has appeared in 498 media stories so far, and those 498 stories have been viewed more than 68 million times.
Last week we were blown away by Blockonomi's very positive story, and this week we were thrilled with reporting on our Community Token Distribution and ISPO in respected blockchain blog TechBullion. Their story, by noted blockchain journalist Saad Ullah, Hot new Cardano DAO toolkit The Summon Platform announces community token distribution of $SUMMON and ISPO funding initiative, has been read more than 8,400 times so far, according to our independent third-party analytics service.
And it was so cool to also appear in the super-respected finance and investment portals Benzinga and Morningstar (combined, those two stories have been read more than 35 thousand times so far).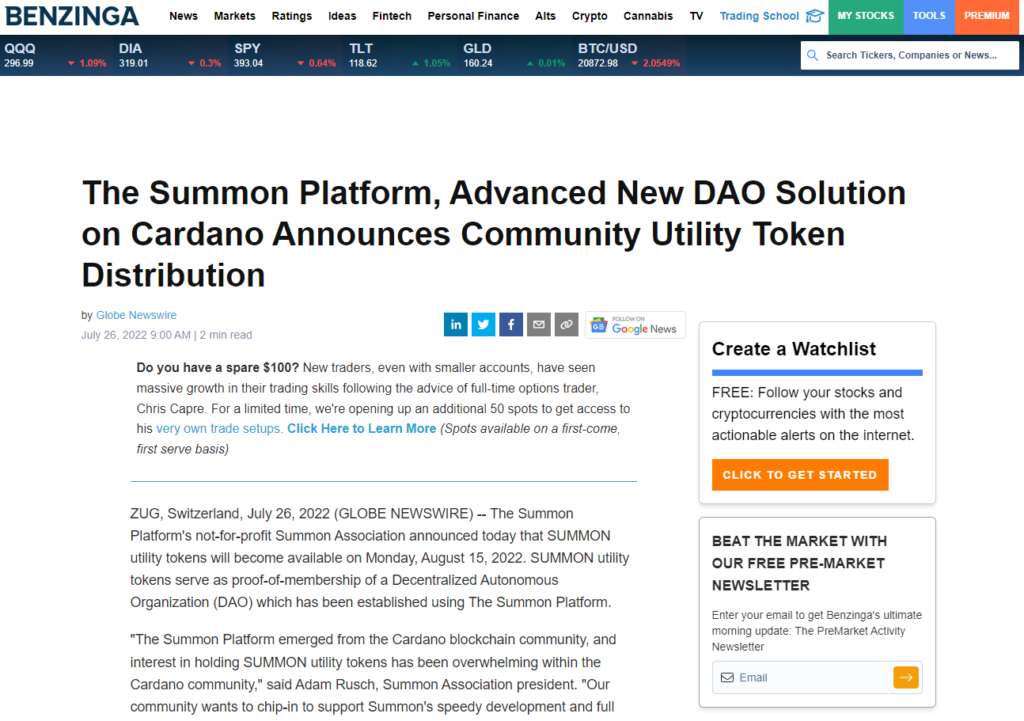 We're standing on the shoulders of a giant named Cardano
The wider Cardano community has been so warm and welcoming for The Summon Platform. News of our upcoming Community Token Distribution and ISPO, covered on Cardano Feed, has been read more than 56 thousand times so far. Thank you, Cardano and ADAO friends! Your support motivates and inspires us.
One fun thing that really buoyed our team mid-week was when Google Finance's chart page for the ADA/USD pair featured our Community Token Distribution story as one of its top-4 Cardano related stories for the day! We appeared in the chart page in a ton of different languages (here is the Russian language version, for example):
Social media's growing nicely
The Summon Platform team is thrilled to see our project's social media metrics this Friday afternoon. In our first nine days since announcing last week, Summon has been mentioned more than 85 thousand times across social media, and we've logged 1,400 engagements (overwhelmingly, shares).
We're on Crunchbase!
And the cherry on top for us this Friday is to see our development arm, Summon Labs, appear on Crunchbase.
Next week…
Our founders Tom, Adam, Riley and Matt were invited by a well-known blockchain and crypto blog to be interviewed next week. We're looking forward to sharing that with our Summoner community as soon as it publishes!
Until then, and from the bottom of our hearts, thank you for all your support and encouragement.